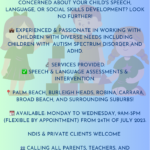 Description
📣 Attention Gold Coast Community! 🌟
🗣️ Calling all parents and caregivers! I am thrilled to share the exciting news that I am a qualified Speech Pathologist, relocating from regional NSW to the beautiful Gold Coast area. I am here with a genuine passion for supporting your children's speech and language development. 🎉
👦👧 If you have a child aged up to 10 years who could benefit from speech and language assessment and intervention, look no further! I am delighted to offer mobile speech pathology services to Robina, Carrara, Burleigh Heads, Palm Beach, Broadbeach, and surrounding areas.
📅 Starting July 24th, I will be available to see clients from Monday to Wednesday, addressing various speech difficulties, language delays, and social communication challenges. With a strong passion for working with children with diverse needs, including Autism Spectrum Disorder (ASD) and Attention Deficit Hyperactivity Disorder (ADHD), I am well-equipped to address a wide range of speech and language concerns.
💼 I happily serve both NDIS clients and private clients. There is currently no waitlist, so I encourage you to reach out and schedule an appointment. Together, we can help your child unlock their full communication potential!
📩 For further information or to book a session, please don't hesitate to contact me at rachelrebello23@outlook.com. I am more than happy to answer any questions or provide additional details.
Let's embark on this exciting speech and language journey together! 🚀
Best regards,
Rachel Rebello
Speech Pathologist